Even though it became clear that Hurricane Isaac was too far south to really affect my area, I was fully invested in my preparations.
You want me to go outside?
There is currently a tropical storm 200 miles away from Key West! Clearly, I need to hunker down inside.
We're going to get some rain?
Perhaps stocking up on Cheetos and chocolate and other hurricane essentials would be in order. In case we're flooded in, you know?
What? The possibility of losing electricity?
Let's cook the biggest lasagna the world has ever seen and invite lots of people to our house to eat it. Then we'll spend the afternoon looking at the palm trees spazzing out in the rain and we'll play cards and drink lots of coffee. In case.. the lights... go out...
Yeeeeaaaah, not really sure what the logic was there on that last one either. But the lasagna was delicious and the company fantastic.
The word this morning was "business as usual," but at some point this afternoon, our CEO emailed everyone a, "just go home." It was in the middle of a particularly nasty downpour. I was assigned the task of sitting in front of the window and announcing to everyone as soon as it stopped. I performed my duties well.
And so, the only other thing to say about my weekend is that my world has looked like the set of
Twilight
for the past three days, all grey and weirdly teal. I'm missing sunlight. Also, I'm wondering who was in charge of lighting for this movie.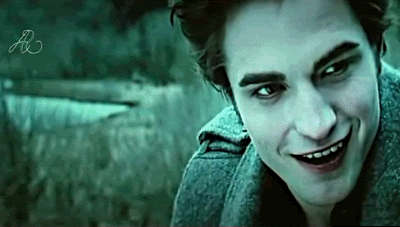 I have no idea what's happening in this gif.
Besides some temperamental rain, big puddles, wet jeans and a pair of soggy shoes, all is well. I'm always fascinated by hurricane culture, especially in my area because we're often spared the brunt of it. Hurricanes are the boy that cried wolf around here and it's easy to forget that they are serious business.The proof is all over my timelines, where pictures like these are being posted, liked, and reblogged:
And I mean, yeah okay, they are pretty funny. But also, I hope everyone still in the path of the storm stays safe. Better to be overly cautious, to spend an entire weekend indoors because driving in a storm freaks you out, than to be sorry.
There will be other weekends.
Ones where the sun does come out.
For now, I suppose all this hurricane food isn't going to eat itself.
I like all of your faces.